Monumenta 2010 Paris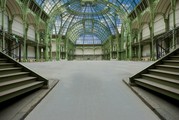 Date: 13 January - 21 February

Location: Grand Palais

Return to Paris Art Exhibitions

Description
One of my favorite museums in Paris has an exciting new contemporary art exhibition. From January 13th to February 21st the Grand Palais is the home of Monumenta 2010 Paris.

Each year, a leading international contemporary artist is invited by the Ministry of Culture and Communication to create an exceptional new work for the 13,500 m² nave of the Grand Palais.

This year contemporary French artist Christian Boltanski has taken up the Monumenta challenge and created "Personnes", an intensely moving installation conceived as a gigantic animated tableau.

A work in sound and vision, Personnes takes up a new theme in Boltanski's work, building on his earlier explorations of the limits of human existence and the vital dimension of memory, the question of fate, and inevitably of death.

Personnes is a one-off, ephemeral work. In accordance with the artist's wishes, the components of the piece will all be recycled at the end of the exhibition.
Venue Information
Date: 13 January - 21 February 2010

Address: Grand palais des Champs-Elysées, Avenue Winston Churchill, 75008 Paris

Tickets: Adults 4 euro / Reduced Rate 2 euro / Under 13s free

Times:
Daily except Tuesday
From 10 a.m. to 7 p.m., Monday and Wednesday
From 10 a.m. to 10 p.m., Thursday to Sunday

Transport:
Metro: Lines 1, 9, 13 / Stations : Franklin D. Roosevelt, Champs-Elysées-Clémenceau
RER: lignes C / Stations : Invalides
Bus: lignes 28, 42, 52, 72, 73, 80, 83, 93

website: Monumenta 2010 Paris