Visiting Paris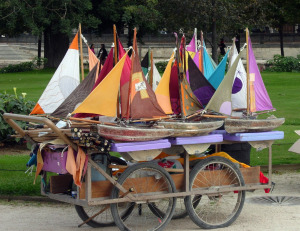 Regardless of whether you're visiting Paris for the first time or if you're a frequent visitor looking for new things to see we've but together a couple of lists which we hope will make your visit a little easier to organize and a lot more fun.

Wishing you a wonderful time in Paris!

First Time Visitors
In a city where there is just so much to see how do you narrow it down?

Since moving to Paris over a year ago we have had a flood of visitors and have learned the hard way "what to see and what to skip".

If this is your first trip to Paris then check out our "must see" top ten Paris tourist attractions.

At this point we own at least 15 guide books to Paris! We have a few favorite guide books which I'm happy to recommend. It will be much cheaper for you to purchase these books before arriving in Paris but if you get stuck when you arrive then here is a list of English book stores in Paris.
Paris Tours with a Twist
Looking for a new way to see Paris? Check out some of the tours we've enjoyed and a few of the one's we plan to try with our next influx of company.

Click here for our Favorite Paris Tours which include a bike tour, wine tour, chocolate tour and more....