About Us


My husband and I moved to Paris in August 2008 dragging with us two reluctant children and one confused dog.

I spoke a bit of French with what was obviously a horrible accent (I could tell by the pained expressions the Parisians had whenever I spoke). There is no doubt that Paris is an incredible city, but it can be a challenge to survive and setup a home when you don't speak French.

Since moving here, we've learned a lot through trial and error and hope that by sharing some of our experiences we can make your visit or move a little easier and a lot more fun.

So whether you are here for life or just a weekend our Paris Events section tells you what's happening in Paris. We check local newspapers and magazines, surf the web, and compile a list of interesting and fun events.

If you're moving to Paris or already live here, our Paris Advice sections provide practical advice about everything from choosing a school, to finding a home, opening a bank account, finding French classes and lots of other useful information.

It's all practical and friendly advice that we wish we knew before moving here and we hope it will help you make the most of your time in Paris.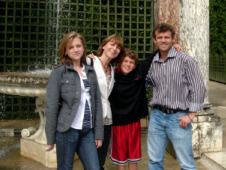 We love feedback so if you have information that you think would be useful to the site please contact us and let us know.
All the best and enjoy Paris.
Schnyder Family
By the way, for those who don't know, we used SBI! to create this website. You may have thought of using SBI! to start an ebusiness, yourself. If you have, and if you have encountered those nasty negative reviews about SBI!, we want you to know the other side of the story. You can read about it here: SiteSell. Hopefully you'll be informed enough to make a decision based on fact, not on fake information.