Paris Restaurants
Just because you're in Paris not every restaurant is going to be great. There are a lot of amazing Paris restaurants but there are even more mediocre tourist traps with expensive and disappointing food.

If you have an iPhone there is a great free application that you can download from Apple Store called "Tell me Where" or in French "Dit moi ou". Their selection of Paris restaurants are rated by customers rather than professional restaurant critics and we've found some amazing local bistros with this tool.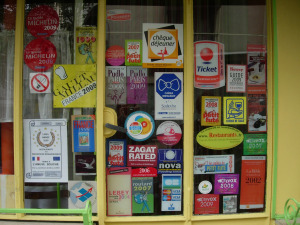 Another quick tip is to check the door for award stickers. Good stickers to look for:
Michelin (red stickers)
Pudlo Paris
Petit Fute

Don't get the award stickers confused with the "we accept lunch tickets" stickers as these are no indicator of quality.

We'll give you a list below of a few of our personal favorites which we have chosen for both great food and friendly service.
We don't eat out often enough to be a comprehensive guide to Paris's many restaurants but we've found a few great Paris food blogs, restaurant review sites and books which we're happy to recommend.

Recommended Food Blogs, Websites and Books
Paris Through Expatriate Eyes
A wonderful website that has a great Bistro and Bar Guide organized by arrondissement. Updated weekly you'll find fun neighborhood resturants which have been selected for not just their food but also for good value and friendly service.

David Lebovitz - Living the Sweet Life in Paris
David Lebovitz, renowned pastry chef and author of several food books, has been living in Paris since 2002. David lists some of his favorite places to eat. The restaurants, bistros and wine bars selected are not fancy, but are places where you'll find a good mix of Parisians with a few visitors as well. Most of them are moderately priced, except where noted.

David also produces a beautiful food blog from Paris with the most incredible photographs, and recipes that really make your mouth water.

Clotilde's Edible Adventures in Paris by Clotilde Dusoulier
Great little guide book to Paris Bistro's, restaurants, bakeries and cafes. Clotilde Dusoulier, a native Parisian, wrote this fun and friendly guide you to some the best spots in town.

The Patisseries of Paris by Jamie Cahill
There is only so much pastry you can eat in your trip to Paris so be sure not to waste the calories on just any bakery. This guide book will lead you to the best pastry chefs, chocolate shops, tea rooms, cafe's and great gourmet grocery stores in Paris.
Our Favorite Paris Restaurants and Bistros
FISH La Boissonnerie - Restaurant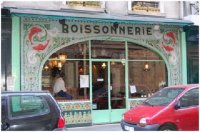 69, rue de Seine
Paris 6ème
Tel: 01 43 54 34 69
Fax 01 46 33 15 29

Closed Monday. About 30 to 40 euros
Dress: Casual


This is one of our personal favorites because we love the combination or great food with friendly (not scary) service. Located in the heart of historic St. German this charming little restaurant is run by a New Zealander who also owns a terrific wine shop in the neighborhood.

Food is excellent, presentation is beautiful and the service is extremely friendly. The staff are mostly American, English or Australian but all are bilingual and happy to help you with the menu or the extensive wine list.

35 euro 3 course dinner menu is good value for the standard of the food served.
---
Au Pied de Fouet
3 rue Saint Benoit
75006 Paris
01.42.96.59.10
15 to 20 euros
Also in St. Germain area is "Au Pied de Fouet" a very cute but tiny bistro tucked down rue Saint Benoit. Unbelievable good value with starters from 3 - 5 euro and main course 11 - 15 euro. Wine is also very good and inexpensive. We had an excellent dinner for four with everybody enjoying 3 courses and two bottles of wine and all for under 100 euros.
Service is also very friendly and fast. No reservations required but you might want to get there early to get a table.
This restaurant has two other locations: 45 rue de Babylone, 75007 Paris and 96 rue Oberkampf, 75011 Paris
---
Le 14 JUILLET - Restaurant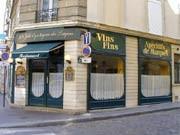 99 rue Didot
Paris 14ème
01 40 44 91 19.

Open 7 days a week. About 25 to 35 euros
Dress: Casual



This is our neighborhood favorite and is also mentioned in the Michelin Green Guide as a good place to eat in the 14th arrondissement.

Very friendly young staff immediately make you feel at home. Classic bistro style restaurant with old wooden tables, red and white checkered napkins and a chalk board menu which they carry around from table to table.

The staff speak enough English to help you with the menu. Unpretentious classic French food including such staples as homemade pate, blanquette de veau and the house special "leg of lamb" for two.

This might be a little out of the way if you are just visiting Paris as "rue Didot" is not very scenic but if you live in Paris and are looking for a friendly neighborhood bistro with classic French dishes for a good price and friendly service then you need to visit our friends at the 14th of July.

---

Le Bec Rouge
Bistro a Vins
46 Bis, Bld du Montparnasse
75015 Paris
01.42.22.45.54
15 to 26 euros

If you are going out to see a movie in Montparnasse then this is a great place for an early dinner. Two course dinner menu with a glass of wine is only 15 euro until 9:00pm. Regular menu prices are 22 to 26 for two course dinner. Excellent unpretentious French food for very reasonable prices. The restaurant is very popular with the Montparnassee locals and mostly overlooked by the tourists. Staff are friendly and very efficient.
---
Les Grillades de Buenos Aires
54, rue de Montparnasse
75014 Paris
01.43.21.56.74
20 to 30 euros
Very small Argentinean steak restaurant offering an all beef menu at affordable prices. I would normally not recommend steak restaurants in France as you're usually better off with fish, poultry or pork but if you're craving some red meat then try this little restaurant tucked away between all the creperies on rue Montparnasse.
Prices & Payment
Paris is an expensive city. Average lunch in a bistro or cafe will be 15

€

- 25

€

and an average 2 to 3 course dinner 30

€

- 35

€

. Dinner at the more upscale restaurants will be more like 50

€

-75

€

and the top restaurants 100

€ and up. These prices do not include drinks.



Lunch is a much better deal than dinner and is a good way to try some of the more expensive restaurants. Another good deal is to order the "fixed price menu" which includes an appetizer "une entree", a main course "un plat" and a dessert "un dessert" (with some menus you choose between a starter or a dessert and pay extra if you wish to have both).

All restaurants are required by law to post a menu with prices outside the door. The prices listed usually include 15% for tax and tip "service compris". It's not necessary to leave an additional tip unless you really feel the service warrents it, in which case you leave an additional 5% or if paying in cash just round off the amount (for example the bill costs 57€ and you leave 60€). If you need more help figuring out tips see our Paris tipping guide.

In France they don't always bring you water automatically but you just need to ask for "une carafe d'eau" if you would like a jug of regular tap water. Tap water is always free and don't feel obliged to order bottled water unless you prefer it.

At the end of your meal you need to ask for the check "l'addition, s'il vous plait". It would be considered rude if they brought the check before you specifically requested it.

Most restaurants accept credit cards and will bring the credit card machine to your table rather than taking your card away.
Restaurant Hours
Restaurants serve lunch from 12:00pm to 3:00pm and then close until dinner.

Dinner is served from 7:30pm on but most French people don't eat out until 8:30pm or later.

Most Brasseries and cafes serve food all day just look for a sign that says "service continu".
Reservations
Always try to reserve in advance for dinner especially if you will be more than four people. The French are still very formal when it comes to their food and they will definitely treat you with more respect if you show up with a reservation.

Check the dress code as some of the more formal restaurants may require a jacket and tie.
Different Styles of Restaurants
Restaurant
Open for lunch and dinner and generally closed in between. Customers select items from a printed menu and can choose from one to several courses. By law, a prix-fixe menu must be offered, although high-class restaurants may try to conceal the fact. Few French restaurants cater to vegetarians.

Bistro
Often smaller and more casual than restaurants and often use chalk board or verbal menus. Most specialize in regional cuisine including classic french dishes coq au vin, pot-au-feu, confit de canard and entrecôte.

Brasseries
Brasserie is the French word for brewery so it's not surprising that here you will find beer, platters of smoked meat, assorted sausages and sauerkraut "choucroute".

Bars a Vin (Wine Bar ) - Great place to enjoy a glass wine and nibble on some cheese, platters of smoked meats "charcuterie, pates and possible even cooked meals.

Cafes
As well as serving coffee, tea and hot chocolate most cafes will serve sandwiches, salads and pastries. My favorite sandwich is the "croque-monsieur" a toasted ham and cheese sandwich best enjoyed with wonderful spicy French mustard!

Salons de The - A tea room offering a selection of teas, coffee, hot chocolate and wonderful pastries. Most salons de The also serve a light lunch of salads or quiche but close before dinner.
Share Your Favorite Restaurant
Found any great restaurants in Paris?
If you have a favorite place to eat in Paris with good food and friendly service then please share it with us. We love to find new places.
Visitor Recommended Restaurants
Click below to see where other folks have enjoyed eating in Paris.
Couleurs de Vigne

2 rue Marmontel 75015 Tel 01 45 33 32 96 Open 10h till 23h Monday to Saturday and 19h30 to 23h on Sunday This is a small restaurant in the …
Chez Vincent Not rated yet
Chez Vincent 56 rue Saint-George Paris 75009 Metro Saint George (12) Tel. 01 42 85 02 79 www.restaurant-chez-vincent.com Closed Saturday and Sunday …