Renoir in the 20th Century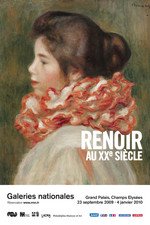 December 23rd - January 4th
Les Galeries nationales du Grand Palais


Click here for a link to other Art Exhibitions in Paris




Description
The Renoir exhibition at the Grand Palais has two goals, one to shed new light on lesser known aspects of Renoir's work (notably his decorative paintings, drawings and sculptures), and two to reaffirm the influence of his art throughout the first half of the 20th century in France.
Over a hundred Renoir paintings, drawings and sculptures will be shown in fifteen sections where they will be set against works by Picasso, Matisse, Maillol and Bonnard, giving an indication of the artist's influence and legacy.
The exhibition wants you to take a new look at Renoir's late works through the eyes of artists he influenced.


Venue Information
Address
Grand palais des Champs-Elysées
Avenue Winston Churchill, 75008 Paris
Transport
Metro: Lines 1, 9, 13 / Stations : Franklin D. Roosevelt, Champs-Elysées-Clémenceau
RER : lignes C / Stations : Invalides
Bus : lignes 28, 42, 52, 72, 73, 80, 83, 93
Hours
Open Daily, except Tuesdays from 10:00 a.m. to 10:00 p.m.
Closes Thursday at 8:00 p.m.
Ticket Price
Full price: 12€ - Reduced price: 9€