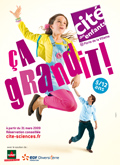 Open All Year


Parc de la Villette




Click here for a list of other Family Fun Events in Paris
Description
Hugely popular science and technology museum located in the Parc de la Villette.
My advice would be to go early or pre-book tickets on-line in order to avoid very long lines. Best family plan would be to go on a nice day, get there at opening time and pack a picnic lunch. Enjoy the museum for a few hours and then let the kids run around and play at the amazing
Parc de la Villette
. This museum is particularly busy on wet rainy winter days.
The museum is divided into different sections:
The Explora exhibitions
are the heart of the Cité des Sciences et de l'Industrie. They are meant for everyone, both those with a knowledge of science and those without. Unfortunately all information about the exhibits is in French.
Children's Cite
has two areas of special hands on experiments and activates for 2-7 year old children and the other for 5-12 year olds. Children must be accompanied by an adult. Sessions last 90 minutes and include a show. If possible pre-book "Children Cite" otherwise be prepared to wait a few hours or even miss it altogether.
Geod
- 3D science and educational movies. Movies are in French
Venue Information
Address
30, avenue Corentin-Cariou - 75019 Paris
Area Porte de la Villette
Transport
Metro - Line 7, station "Porte de la Villette"
Bus: 75, 139, 150, 152, 249, PC.
Fee-paying car park: entrance Quai de la Charente.
Ticket Price
Link to full price sheet & ticket ordering information
Opening Times
Open Tuesday to Saturday 10 a.m. to 6 p.m., and until 7 p.m. on Sundays. Closed Monday




Website
www.cite-sciences.fr