Hungry Dinosaurs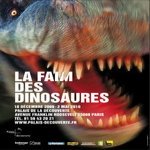 Date: 10 December - 2 May

Location: Palais de la Découverte

Return to Family Fun Events in Paris

Description
Animated life size dinosaurs are back in Paris with an exbihition that is sure to entertain both the young and the old.

"Hungry Dinosaurs" teaches us about the eating habits of the Brachiosaurus, Tyrannosaurs, Velociraptor, Oviraptor and many other species. History comes to life as we watch moving dinosaurs show us how and what they ate.

Children will have an opportunity to feel like paleontologists as they experience the workings of an excavation site and see life size reproductions of skeletal remains.
Venue Information
Date: 10 December - 2 May

Address: Palais de la Découverte, Avenue Franklin Delano Roosevelt 75008 Paris

Tickets: Adults 7 euro, Reduced 4.50 euro, free for children under 5 years;

Times:
Tuesday to Saturday from 9:30am - 6:00pm
Sundays and holidays 10:00am 00 - 7:00pm
CLOSED MONDAYS

Transport:
Metro Line 1 & 3 to Champs Elysees-Clemenceau / Line 1 & 9 to Franklin D. Roosevelt
Bus 28, 42, 52, 63, 72, 73, 80, 83, 93

website: Hungry Dinosaurs in Paris