English Book Shops in Paris


If you need to pick up an English book while you are in Paris then visit any of the following shops: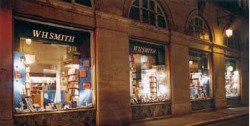 W. H. SMITH
248 rue de Rivoli
75001 Paris
Telephone: +33 (0)1. 44.77.88.99
Metro: Line 1 - Concorde
Open: Monday to Saturday 9:00am to 7:00pm, Sunday and Public Holidays 12:30pm to 7:00pm

When you walk in the doors of W.H. Smith you definitely feel like you have exited France and walked right into England. You'll find pretty much everything you would find in a W.H. Smith book store in the UK including popular British food items... custard, crisps, polo, Cadbury chocolate, mince pies and lots of sweets. The store also carries a large selection of international newspapers and magazines - naturally at a higher price!




The Red Wheelbarrow Bookstore


22 rue St. Paul
75004 Paris
Tel 33 (0)1 48 04 75 08
Metro: Line 1 St. Paul
Open 10-7 Monday - Saturday and Sunday afternoons

Well stocked and very friendly book store in the Marais. Not as large as W.H. Smith but a more personal store where the owner is very happy to spend the time helping you find just the right book.



Shakespeare and Company

37 rue de la Bûcherie
75005 Paris

Tel : 00 33 (0) 1 43 25 40 93
Metro: Line 4 - St. Michel

Open Everyday 10:00am to 11:00pm Sunday 11:00am to 11:00pm

One of my families favorite quirky places in Paris and a spot that should be on your "must see" list. Since 1921 Shakespeare and Company has been serving as both a bookstore and a reading library. Working at the bookstore are young writers, known as "tumbleweeds" who earn their keep by working in the shop for a couple of hours each day. Children will enjoy reading books in the tiny children section upstairs and also leaving notes on the famous bulletin board. Perfect place to take a little reading break after a visit to Notre Dame.