2009 Festival Art Outsiders Paris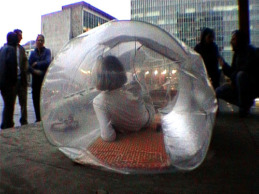 Date: September 9th - October 11th
Location: Maison Européenne de la Photographie
Click here for a list of other Photography Exhibitions in Paris.

Description
This photography exhibition takes a look at extreme environments. These environments are those which until now have been "uninhabited" by human beings, and which today's technology and science have made "habitable" (Antarctica, the underwater environment, outer space, deserts), but also those that have become "uninhabitable" by our actions and way of live (pollution, accidents, technology, economic imperatives and global warming). The exhibition presents an ensemble of works that explore the imaginary and the reality, in the political, social, ecological and poetic spheres.
Venue Information
Address
Maison Européenne de la Photographie
5-7, Rue de Fourcy
75 004 Paris
Area St. Paul / Le Marais
Transport Metro - Saint Paul or Pont Marie. Bus - 67, 69, 96 ou 76.
Opening Hours Wednesday to Sunday 11am to 8pm
Ticket Price €6.50 and €3.50 (reduced rate)
Web Site www.art-outsiders.com