FISE 2010 Paris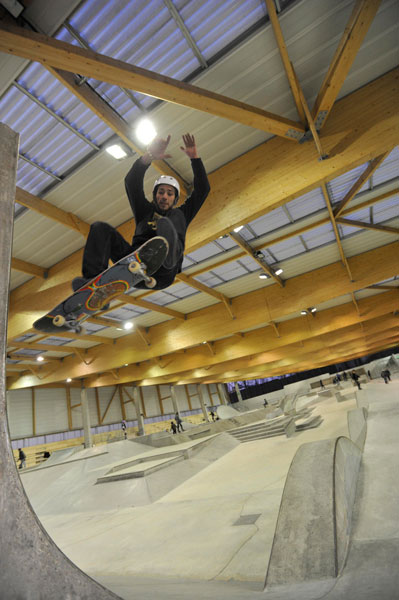 Date: 20 - 21 February 2010

Location: l'EGP 18

Return to Paris Sports Events
Return to Family Fun Events


Description

FISE the International Festival of Extreme Sports opens it's freestyle rollerblading, bmx and skateboarding competition for the first time in Paris.

This weekend l'EGP 18, the biggest skate park in Paris and one of the biggest indoor complexes in Europe, hosts this two day competition in amateur and professional categories of skateboarding, bmx and rollerblading.

Price Money: 1 500 Euro per discipline for a total of 4 500 Euro

Entrance is free to spectators and participation is 10 Euro for amateurs, and 15 Euro for the pros. You can register on site from 14h to 19h Friday, February 19. Written parental consent required for minors.
Program
Friday, February 19
14h to 19h Registration and Training Experience Fise

Saturday, February 20
09h45 Training Roller 12 and less
10:00 Qualifications Roller 12 and under
10:30 Training Roller 13 to 16 years
10:45 Qualification Roller 13 to 16 years
11:45 Training Roller Girl
12:00 Qualifications Roller Girl
12:30 Training Skate
13h00 Skate Amateur Qualifying
14h00 Skate Pro Training
14h15 Qualifications Skate Pro
15h00 Training Roller + 17 years
15h30 street surfing challenge
15h15 Roller Qualifications 17 + years
16h15 Elite Training Roller
16h30 Qualifications Elite Roller
17h30 BMX Training
18h00 Qualifications BMX Amateur
19h20 Pro BMX Training
19h45 BMX Pro Qualifications
20h30 End

Sunday, February 21
09h45 Training Roller 12 and less
10:00 Finals Roller 12 and under
10:30 Training Roller 13 to 16 years
10:45 Finals Roller 13 to 16 years
11:15 Training Roller Girl
11:30 Finals Roller Girl
12:00 Training Skate
13h00 Amateur Skate Finals
13h40 Skate Pro Training
14h00 Skate Pro Finals
14h30 Challenge street surfing
14h40 Training Roller + 17 years
15h00 Finals Roller + 17 years
15h30 Elite Training Roller
15h45 Roller Elite Finals
16h15 BMX Training
16h30 Amateur BMX Finals
17h15 Pro BMX Training
17h30 Pro BMX Finals
18h15 Discount prices BMX
Venue Information
Date: 20 - 21 February 2010

Address: EGP 18: 54, bis boulevard Ney 75018 Paris

Times: Saturday, February 20: from 9:45 to 20:30
Sunday, February 21: from 9h45 to 18h30

Transport:
Metro: line 12, station Porte de la Chapelle
Bus -65 to Emile Bertin


website: FISE 2010 Paris
For more information on this skate park visit www.paris.fr