The Image Factory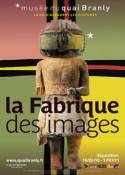 Date: 16 February - 17 July 2010

Location: Musee du quai Branly

Return to Paris Art Exhibitions


Description

If you're interested in different cultures and the evolution of iconography, this new exhibition "The Image Factory" at the Musee du quai Branly in Paris is a must see.

By examining over 160 objects from all five continents, some of humanity's most important art and precious objects, this exhibition wants us to understand what is not immediately evident in an image.

The Image Factory Exhibition looks at the four different models of iconography created by humans, totemism, naturalism, animism and analogism. Each part of the world evolved its own iconography, reflecting the four broad world views of Africa, Europe of the fifteenth and sixteenth centuries, the American Amazonian Indians and the Inuit of Alaska, and Australian Aborigines. This new exhibition explains the difference between these ways of seeing the world, and how they relate to Man's evolution and his relationship with his environment.
Venue Information
Date: 16 February - 17 July 2010

Address: Musee du quai Branly, 37 Quai Branly 75007 Paris

Tickets: Adult 8.50 euro / Reduced 6 euro

Times: Open Tuesdays, Wednesdays and Sundays from 11am to 7pm
Thursdays, Fridays and Saturdays from 11am to 9pm.
Closed Mondays, except 22nd February, 1st March, and the 5th, 12th, 19th and 26th of April.

Transport:
Metro: Alma Marceau, Iena
Bus - 42 63, 80, 92
Parking - paid parking available at 25 quai Branly

website: Musee du Quai Branly