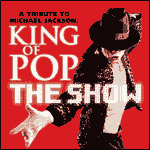 Date: November 8th
Location: Le Zenith Paris


Click here for a list of other music events in Paris
Description
"King Of Pop - The Show - A Tribute To Michael Jackson" will tour major European theaters this fall.


This live 2 hour concert will feature the best Michael Jackson impersonator, William Hall preforming on a gigantic stage in the manner of Michael Jackson. Music will include Billy Jean, Beat It and Thriller.
The first show with Musicians (Guitar: Jon Myron Clark, drummer Ricky Lawson, Keyboard: Rory Kaplan) and Choreographer (Stacy Walker) who participated in tours of "Bad," "Dangerous" and "History". The show is produced by La Toya Jackson's agent Tom Beser.
The King Of Pop concert will take place at
Zenith in Paris Sunday, November 8, 2009
starting at 5:00pm
Venue Information
Address:
Le Zenith Paris, 211 Ave. Jean Jaures, 75019 Paris
Area Parc de la Villette
Transport Metro - Porte de la Villette, Bus 75, 151
Ticket Price Check website for pricing




Website for tickets
www.mestickets.comh