Madeleine Vionnet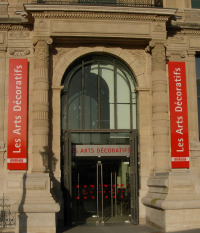 June 24th - January 31st
Les Arts Decoratifs


Click here for a link to other Art Exhibitions in Paris
Description
Wonderful exhibition of the works of French fashion purist "Madeleine Vionnet".

The exhibition chronologically retraces Madeleine Vionnet's exceptional career, focusing on the hallmarks of her work, particularly the structure and decoration of the garment. The exhibition includes 125 life size prototypes which she donated in 1952 along with dress patterns, photo albums, account books and books from her personal library.

Madeleine Vionnet (June 22, 1877 - March 2, 1975) - was a French fashion designer whose avant guard approach to fashion lead her away from the use of corsets and padding and instead she created dresses that accentuated the natural female shape.


In the 1920s Vionnet created a stir by introducing the bias cut, a technique for cutting fabric enabling it to cling to the body while moving with the wearer.

Vionnet's use of the bias cut to create a sleek flattering female silhouette would help revolutionize women's clothing and carry her to the top of the fashion world.
When you looking at her designs in this exhibition you can see how her work is still reflected in a lot of today's fashions. When I was at the exhibition yesterday there was a whole class of fashion students sketching the dresses.
Tickets to this exhibition also cover entrance to the museums permanent collection of furniture and decorative arts from the 1400's through to 2000. The Art Deco section was probably my favorite. Very fun to browse around if you have some extra time.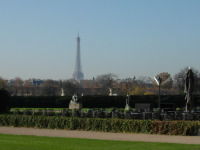 Cafe / Restaurant


Also there is a wonderful cafe/restaurant in the museum "Le Saut du Loup" with a terrace where you can enjoy views of the Louvre, the Tuilleries and even the Eiffel Tower.
Lunch menu with a glass of wine 22€ or 17€ with presentation of your museum ticket. Coffee or aperatif is about 3€ - 6€.


Museum Gift Shop
The gift show is also worth a stop. It has an excellent selection of art and architecture
books (even several in English), glassware, jewelry and even some children's toys.




Venue Information
Address
Museum of Decorative Arts,
107, Rue de Rivoli - 75001 PARIS
Opening Hours
Tuesdays to Fridays from 11 a.m. to 6 p.m.
Saturdays and Sundays from 10 a.m. to 6 p.m.
Open until 9 p.m. on Thursdays.
Closed on Mondays
Transport
Metro:

Ticket Price
Full price 8€, Reduced 6.5€
Website
Madeleine Vionnet Exhibition - Paris Museum of Decorative Arts