Martin Parr Exhibition Paris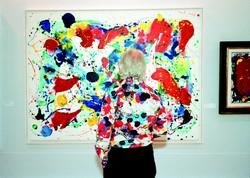 Date: 30 June - 27 September
Location: Jeu de Paume Museum
Click here for a list of all photography exhibitions in Paris.
Description
British photographer Martin Parr has spent 30 years chronicling Western society through his photographic lens. Themes linked to globalisation: mass tourism, consumerism and 'leisure' form the basis of his work, which has been exhibited in the UK at the Hayward and the Tate Modern.
"Planète Parr" proposes a dialogue between Parr's photographs, those of other artists, and his extraordinary collection of objects. This is the first exhibition to feature objects related to political and social events, and curiosities that reflect the absurdity and vacuity of our consumer society. For a fascinating and often humorous commentary on the way we live our lives and what we value, this is an exhibition not to be missed.
Venue Information
Address
Jeu de Paume museum
1 Place de la Concorde - 8th
Area Champs Elysees & Tuilleries Gardens
Transport Mº Concorde
Open Tues 12-21hrs, Wed-Fri 12-19hrs, Sat&Sun 10-19hrs, Closed Mondays
Admission Fee €6, discount price: €4
Telephone 01.47.03.12.50
---