Mozart Rock Opera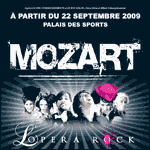 Date: 22 September - 27 December
Location: Porte de Versailles


Click here for a list of other music events in Paris
Description
Mozart Rock Opera in French is now playing at the Porte de Versailles
After the Ten Commandments and the Sun King, producers Albert Cohen and Dove Attia created the first rock opera devoted to the greatest composer of all time: Wolfgang Amadeus Mozart.
100% live with costumes and period decor, the rock opera tells the story of seventeen year old Wolfgang Amadeus Mozart child prodigy and musical legend.
Mozart who dazzled Europe's greatest courts, master of the harpsichord and violin by age five, composer of his first concert by age six and first opera by age eleven, is returning to Salzburg from Italy where he has been travelling with his father, Leopold. Bad news awaits them: the Price-Archbishop of Salzburg, protector of the Mozart family has died and Hieronmus Colloredo will succeed him. A tyrannical man who demands total obedience from his subjects, Colloredo is unlikely to put up with the whims of the irreverent young Mozart.
Venue Information
Address:
Palais des Sports, Porte de Versailles, 75015 PARIS
Area Porte de Versailles
Transport
Parking: Porte de Versailles
Metro: Line 12 - get off at Porte de Versailles
Bus: 42, 49, 60 - get off at Porte de Versailles
Tram: T3 - get off at Porte de Versailles
Car: Via the inner ring road: Porte de la Plaine or Porte de Versailles exit
Via the outer ring road: Porte de Sevres or exit Porte de Versailles

Ticket Price € 25.00 to € 85.00