Musical Fountains Versailles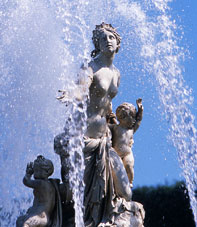 Date: April 4th - October 25th
Location: Versailles
Click here for a list of all Festivals and Events in Paris.

Description
Les Grandes eaux Musicales (the Musical Fountain Displays) are a wonderful way to experience the mingling of light, water, and classical music in the gardens of the world's most famous chateau. They have been inspired by the concept which was created by Louis XIV himself. Les Grandes eaux Musicales were designed as a moment of celebration when they were created in 1666 and they have become an essential event for lovers of gardens, water shows and music.
Bring a picnic and if the weather cooperates plan to spend the day enjoying everything the gardens have to offer. Renting bikes is always fun and is a great way to explore the extensive palace grounds. To find the bikes walk towards the beginning of the Grand Canal (the giant body of water that looks so far away). You will find the bike rentals just opposite the Brasserie Restaurant "La Flotille". You can rent a bicycle for about 6 Euros an hour.
Venue Information
Address
Palace of Versailles
Area Versailles
Transport RER C Versailles Rive Gauche
Times Every Saturday, Sunday and public holiday from 11am to 12noon and 3:30pm to 5pm.
Ticket Price €8 and €6 (reduced rate)
Web Site http://en.chateauversailles.fr