Nissim de Camondo Decorative Arts Museum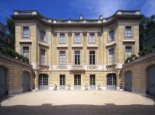 Date: Ongoing

Location: Musée Nissim de Camondo

Return to Paris Art Exhibitions

Description
The Nissim de Camondo museum is a magnificent mansion built and furnished with some of the most lavish furniture, artwork, tapestries, china and silverware from the 19th and early 20th century.

The Story of the Camondo family is fascinating but tragic. Moses Camondo, a very wealthy Parisian banker, was a passionate collector of French furniture and art from the eighteenth century and over the years he amassed a collection of unusual quality.

In 1911, he hired architect Rene Sergent to build a private mansion next to Parc Monceau that would be worthy of this collection and suitable for his family. The design was modeled after the Petit Trianon in Versailles.

The home, which is fully preserved in its original condition, offers an opportunity to discover the taste of a great collector and to get a glimpse of the everyday life of an aristocratic home.

Moses Camondo planned to leave his home and collections to his only son Nissim. Unfortunately, Nissim was killed during World War I. In memory of his beloved son Moses Camondo left his property to the "Arts Décoratifs". The Nissim Camondo museum opened the year after Moses's death in 1935. The death of Moses's daughter, her husband and children in Auschwitz during the Holocaust terminated the Camondo dynasty.
Venue Information
Address: Musée Nissim de Camondo, 63, rue de Monceau 75008 Paris

Tickets: Adults 6 euro / reduced price 4 euro

Times:
Wednesdays to Sundays from 10am to 5:30pm
Closed Mondays & Tuesdays

Transport:
Metro Lines 2 to Monceau or Villiers or Line 3 to Villiers
Bus - 30, 94, 84

website: Nissim de Camondo Museum

Also in the area:
Parc Monceau - popular "English" style park with some interesting architectural elements
Jacquemart-André Museum, 158 bd Haussmann 75008 Paris

Bistros:
Le Bouco, 10 rue de Constantinople
Metro Line 3 to Europe
phone 01-4293-7333
22 euro for the entrée and plat