Paris Agricultural Fair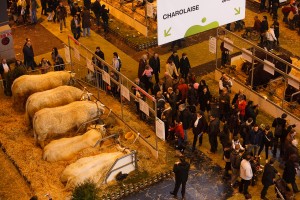 Date: 27 February - 7 March

Location: Porte de Versailles

Return to Food and Wine Events
Return to Family Fun Events

Description

The Paris Agricultural Fair is fun for the whole family. This year there will be over 1000 exhibitors and over 3500 animals.

There will be cows, bulls, horses, donkeys, goats, sheep, rabbits, pigs and even dogs. Enjoy all sorts of fun competitions including "best shepherd". Watch cows being milked everyday between 5:00pm and 6:00pm and buy fresh milk to take home.

This is France and therefore you can't have a festival without food! There will be halls devoted to wine, cheese, fois gras and lots of other great produce from all over France. There will also be a special section for tasting the delights of 18 other countries participating in this year agricultural fair.

For the first time there will also be a "Beauty and Fashion" exhibition featuring all natural products produced in France.
Venue Information
Date: 27 February - 7 March

Address: Porte de Versailles, Place de la Porte de Versailles 75015

Tickets: Adults 12 euro / Students 6 euro / Free for children under 6

Times: 9:00am to 7:00pm

Transport:
Metro: Line 12 - get off at Porte de Versailles
Bus: 42, 49, 60 - get off at Porte de Versailles
Tram: T3 - get off at Porte de Versailles
Car: Via the inner ring road: Porte de la Plaine or Porte de Versailles exit
Via the outer ring road: Porte de Sevres or exit Porte de Versailles


website: Paris Agricultural Fair