Paris Christmas Markets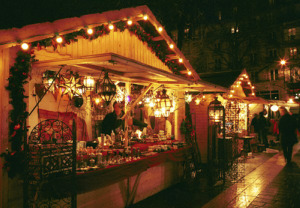 Date: End of November until End of December


Description


Get into the spirit of the holidays with a trip to one of Paris's Christmas markets. While these traditional Paris markets are not as impressive as the German or Austrian "christkindlmarkets" they are still worth a trip.
The markets are made up of clusters of wooden huts selling gifts, food and cups of hot spiced wine.
The gifts vary a little from market to market but tend to be mostly tacky (penknives, scarves, wooden fruit bowls) however, this year I have noticed an improvement with the addition of some new more interesting vendors especially at the Champs-Elysées.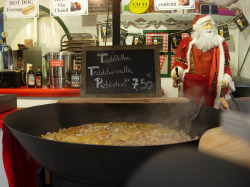 For me the best part of the markets is the food.
I really enjoy wandering around with my hands wrapped around a cup of hot wine "vin chaud" and trying to decide between the tartiflette or the smoked meat sandwiches with melted raclette cheese!
Tartiflette
is a traditional French dish from the Savoie and is made with potatoes, onions, bacon and melted
Reblochon cheese. For the Christmas markets they cook it in these giant black pots and the smell of it cooking is almost as delicious as the taste.


List of Paris Christmas Markets

Champs-Elysées Christmas Market-
This is my favorite Christmas market because of it's great location.
Metro:
Line 1 - Champs Elysées Clemenceau
When you are here there is no doubt that you are in Paris and it's Christmas, looking up the street you see the trees dripping with christmas lights all the way to the Arc de Triomphe and looking down you see
the Big Wheel
at the Place de la Concorde - it's beautiful!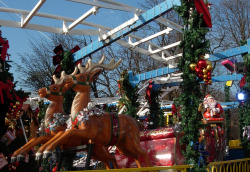 This is also a fun market for children as this year they have added a little Santa roller coaster.
My kids also enjoyed the grilled sausages and giant candy floss / cotton candy.
I spotted some nice engraved bracelets and interesting purses made with recycled candy wrappers.
---
La Défense Christmas Market -
Located just behind the impressive 100-meter high Grande Arche and right outside the
La Défense shopping center.
Metro:
Line 1 to
La Défense
. Exit through the shopping center and follow signs for "
marchés de Noël"
.
Once again the gifts are not that great but the food is excellent. As soon as you enter the market you smell the tartiflette but there are also hams roasting on an open spit which they slice for sandwiches or try the "Foie Gras" which also makes an excellent Christmas gift.
---

Montparnasse Christmas Market
- wooden huts covered with fake snow selling the usual gifts with the addition of one vendor selling colorful collections of mounted butterflies, moths and other bugs.
Metro:
Lines 4, 13, 12 - Montparnasse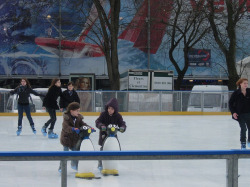 The best part of this market is the ice rink in front of Gare Montparnasse which is not as large as the rink in front of Hotel De Ville but it is also not as busy.
The ice rink opens in December, ice skating is free or 5 euro to rent skates.
For smaller children they have these great wooden penguins they can skate with to keep them balanced.
There are also two carousels that children can ride for free. On the weekends there are regular market stalls here where you can pick up inexpensive shoes, jackets, sweaters and watches.




---
Christmas Market Saint-Sulpice
Location:
Place Saint-Sulpice, 6th arrondissement
Metro:
Saint-Sulpice
Christmas Market Saint-Germain-des-Prés
Location:
Place Saint-Germain-des-Prés, 6th arrondissement
Metro:
Saint-Germain-des-Prés
Christmas Market Nation
Location: Place de la Nation, 11th arrondissement
Metro
/RER:
Nation
Christmas Market at the Place des Abbesses
Location:
Place des Abbesses, 18th arrondissement (Montmartre)
Metro:
Abbesses
Christmas Market at Gare de l'Est
Location:
Gare de l'Est, 10th arrondissement
Metro:
Gare de l'Est