Paris Half Marathon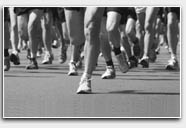 Date: Sunday, March 7th 2010

Location: Start: Esplanade du Château de Vincennes

Return to Paris Festivals
Return to Paris Sports Events

Description

The annual Paris Half Marathon race will now take place on March 7th, 2010.

27,000 runners have registered for this years Half Marathon. The 21.1 km race starts at 10am at Esplanade du Château de Vincennes. The finish will also take place on the Esplanade of the Château de Vincennes.

A souvenir medal and a diploma will be given to each ranked athlete. Check website Paris Half Marathon for full map of the route and any additional information.