Fun Paris Tours


Regardless of whether you are Paris for the first time or just trying to find new ways to show family and friends around the city here is a list of our favorite Paris tours.
Bike About Paris Tours
Bike About Paris is a small company that specializes in bike tours of quant local areas of the city often overlooked by tourists.

I did this tour with my brother and four kids this summer and it was terrific.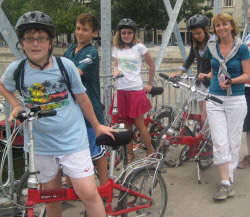 The tour does include Notre Dame and The Louvre but it also takes you through the Marais, Isle St. Louis, Bastille, St Germain des Pres, Les Halles, Centre Pompidou and Beauborg neighborhood.
The tour took about 4 hours but was very easy biking and included a coffee break. The guides are also the owners of the company and they do an excellent job making the tour interesting, fun and very personal.
Price:
30€ per person for the group ride / check site for other options
Website:
Bike About Paris Tours
---
Fat Tire Bike Tours
If you are more interested in seeing the big sites by bike then try Fat Tire Bike Tours. 4 hour bike tour covering most of the big Paris attractions - Eiffel Tower, Ecole Militaire, Champs Elysees, Place de la Concorde, Louvre and more....

It's very flat easy biking and you do not need to be super fit to enjoy this trip.
Price:
26€ per person for the day ride. There are lots of other tour options on their website including a night bike tour, bike tours of Versailles or Monet's Gardens in Giverney.
Website:
Fat Tire Bike Tours Paris
---
Segway Tours
I wish this Paris tour was not quite so expensive as it looks like a lot of fun and has some great reviews on TripAdvisor.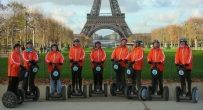 The City Segway tour starts under the Eiffel Tower and covers most of the big monuments:
Eiffel Tower, Musee D'Orsay, The Louvre, Champs Elysees, Tuilleries and more...
Tour takes 4 hours and is not recommended for children under 12 or adults over 70.
Price:
75€ per person
website:
City Segway Tours Paris
---
Photography Tours
Small, customized tours for photographers led by Randy Harris, an International award winning photographer This tour definitely gives you a new "angle" on some of Paris's famous sites. A friend of mine took Randy's tour and I have to say that her pictures were stunning.

To see examples of Randy's photos and read more about the tour options visit his website.
Website:
Photo Tours in Paris
---
Chocolate Tour by Paris Walks
The most delicious tour I've taken yet! We visited one famous Paris bakery and sampled their delicious "opera" cake and from there we went on to visit 4 excellent and very different chocolate shops where our knowledgeable guide did her best to educate us on the history of chocolate in Paris while we munched on a good number of free samples.

I would not recommend this tour for children as there is a good bit of walking and the chocolate is very rich.

Paris walks offers a number of other walking tours of Paris - check their web site for details.

Price:

25€ per person
Website:
Paris Walks Chocolate Tour
---
Seine River Cruise
Cruising the seine at night time while all of the major Paris monuments are illuminated all around you is a definite must!

Our favorite seine cruise are the Vendette Boat Tours which leave from Pont Neuf. The Vendette use live guides and not the tape recordings used on the Bateau Mouches and other Seine Cruises.
May through mid-September is the best time to take the tour but it's still worth while in fall and winter you just need to be prepared to sit inside.
Tickets are cheaper if you purchase on their web site and this also saves you from waiting in any lines when you arrive. The night cruise is the BEST and is definitely on my top 10 list for visitors to Paris. If you time it right you'll even get to see the Eiffel Tower sparkle (every hour on the hour for five minutes).
Price:

12€ for adults, 6€ for children (good discounts if you pre-book on their website)
website:
Vendette Seine River Cruse Paris
---
Free Walking Tour by NewParis Tours
I just spotted this tour recently while they were gathering at the St. Michel Fountain and I can't tell you whether it's good or bad but it's FREE!.
Join a 3.5 hour walking tour that covers most of the big monuments:
Notre Dame, Eiffel Tower, Napoleon's Tomb, Tuilleries, Louvre, Opera, Champs Elysees, Place de la Concorde and more...
The guides are university students and graduates that work for tips. The free tour starts daily at 11am, 1pm and 4pm at the St. Michel Fountain on Place St. Michel. Look for the guides wearing red t-shirts and carrying a big "FREE TOUR" sign.
This group also offers a walking tour of Montmartre and a Paris Pub Crawl. Check their web site for details.
Price:
FREE
Website:
Free Paris Walking Tours
---
Tour of France Wine Tasting
Fun and enjoyable way to get better acquainted with French wines.
Young French sommelier and O Chateau owner Olivier Magny leads you on a fun and informative sampling of 6 French wines including champagne.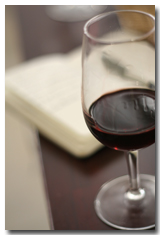 The class takes place in O Chateau's wine cellar where you will taste a wonderful variety of French wines from Alsace to Bordeaux and from Burgundy to the Rhone Valley.
Oliver is an energetic and entertaining host who gives you a great basis from which to appreciate and enjoy French wine.
I took this wine tasting class this summer with a friend, we both totally enjoyed it and picked up some useful information to help us navigate the abundant French wine aisles and restaurant menus.

O Chateau also offers a number of other tours including a Seine River Champagne Tasting Cruise, Wine & Cheese Sampling and Wine Tasting Dinner. Check their web site below for details.
Price:
50
€
Website
:
O Chateau Wine Tastings & Tours
---
Paris Cooking Class - Cook'n With Class
This is one I can't wait to try! I hope my husband is reading as this would make a great Christmas gift!
Cook'n With Class offer a number of different cooking classes in English which you can check out on their web site listed below. We have friends who took the Morning Market Class and highly recommended it.
The market classes start with a visit to a local market where you chat with the merchants, learn how to select the freshest produce and feel like a real Parisian. Then it's back to the cooking school for a hands on cooking lesson followed by lunch.
Class duration - 5 hours
Price:
I think it's a little expensive at 160€ a person but it does come highly recommended




Website:
Paris Cooking Class - Cook'n With Class