Paris Travel Show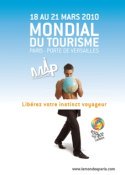 Date: 18 - 21 March

Location: Porte de Versailles

Return to Paris Festivals & Trade Shows


Description

What better place to start planning your holidays than at MAP - Le Monde A Paris, the largest international travel and leisure exhibition in Paris.

This years Paris Travel show will showcase a wide variety of holidays, including destinations in France and abroad, speciality holidays, weekend trips, leisure activities and lots more.

More than 100,000 visitors are expected to attend this years MAP show and attendees can expect to meet France's leading travel agents and tour operators and get answers to all their travel or destination questions.

Exhibitor will include;

Adventure / Special Interest Holidays
Attractions/ Destinations/ Museum/ Theme Parks
Airlines / Airport Services
Business/ Incentive Travel
Cruise/ Ferries
Cultural/ Eco- Tourism/ Study Tour/ Youth Travel
Diving/ Skiing/ Sporting
Ground Transportation (Car Rental, Coach, Railway)
Health/ Food & Wine/ Spa/ Golf Holiday
Hotels / Resorts/ Hotel Management Companies
Travel Insurance/ Banking
NTOs / Tourism Authority
Trade Publications / Media
Training for Travel Industry
Other travel related products / services


Get ideas for how best to spend those glorious 5 or 6 weeks paid vacation that you get in Europe!
Venue Information
Date: 18 - 21 March

Address: Porte de Versailles, Place de la Porte de Versailles 75015

Tickets: Adults 8.50 euro / Free for children under 12

Times: 10:00am - 7:00pm

Transport:
Metro: Line 12 - get off at Porte de Versailles
Bus: 42, 49, 60 - get off at Porte de Versailles
Tram: T3 - get off at Porte de Versailles
Car: Via the inner ring road: Porte de la Plaine or Porte de Versailles exit
Via the outer ring road: Porte de Sevres or exit Porte de Versailles


website: Paris Travel Show