Shakespeare Festival Paris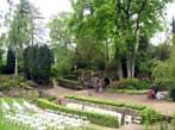 Date: May 1st - October 4th
Location: Jardin Shakespeare in Bois de Boulogne
Click here for a list of all Festivals and Events in Paris.

Description
Enjoy a picnic and some Shakespeare at the "Jardin Shakespeare" in the Bois do Boulogne. Every year the Shakespeare gardens host a festival of open-air theatre. Plays by the Bard are performed in French and English, as well as works by other playwrights and the occasional concert or opera.
The Jardin Shakespeare is so-called because of its five miniature gardens, each named after a work by Stratford's most famous resident - Macbeth, Hamlet, The Tempest, As You Like It and A Midsummer Night's Dream - and you won't find a more charming spot for a summer night's entertainment. Performance times and ticket prices vary. For further information, please use the theatre contact information listed below.
Venue Information
Address
Jardin du Pré Catelan - Bois de Boulogne 75016 PARIS
Area Bois de Boulogne - 16th arrondissement
Transport Mº Porte Maillot
telephone number 01 42 76 64 67
Web Site www.jardinshakespeare.fr