Special Offer from Stade de France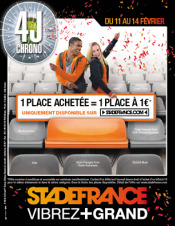 Date: Ticket Sale from 11 - 14 February

Location: Stade de France

Return to Paris Sports Events

Description

The Stade de France is launching a special 4 day sale that is not to be missed. From 11 to 14 February buy one ticket and get the second for just 1 Euro*

Many concerts and sporting events are affected by this unique offer:

CONCERT - Yannick Noah (September 25)
CONCERT - Muse (June 11)
OPERA - Aida (October 2)
RUGBY - French Stade Toulouse (March 6)
RUGBY - French stage / Clermont (April 3)
Rugby - France v Italy (March 14)
ATHLETICS - Areva Meeting (July 16)
VISITS THE STADIUM IN FRANCE: (valid until June 30, 2010)

* Subject to availability.
Offer subject to conditions and availability on certain events. The normal price ticket and 1 euro ticket are valid for the same event and in the same category.

Check Stade de France website for full details and to purchase tickets.