Tony Hawk Paris Show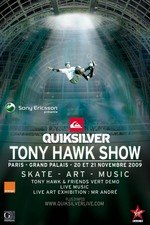 November 20th & 21st
Grand Palais Paris


Click here for a list of other sports events in Paris
Click here for a list of other family fun events in Paris




Description
Quicksilver's Tony Hawk Paris show brings the worlds biggest skateboarding stars together to perform on Europe's biggest skate ramp and all of this is happening at one of Paris's most spectacular museums!
Don't miss Tony Hawk, Andy MacDonald, Jean Poster, Kevin Staab, J, Jesse Fritsch and Sergie Ventura as they demonstrate their fantastic skills on the evening of Saturday November 21 on Europe's biggest skate ramp.
To put the final touch to this unique encounter of legendary architecture and sporting legends a concert by an internationally famous rock band is scheduled for November 21 as a curtain-raiser for the Tony Hawk Show.
Amateur and professional skaters will be made to feel at home in a gigantic street scene for two whole days. All-star competitions and demonstrations by the Quiksilver team: street by Dominik Dietrich, Ross Mac Gouran, Manuel Margreiter; on the ramp will be Sascha Muller, Pete King and Sam Bosworth, not forgetting guest stars Christian Hosoi, Omar Hassan, Javier Mendizabal and Daniel Cardone..., plus free starter classes with pros from the Quiksilver team.
Venue Information
Address
Grand palais des Champs-Elysées
Avenue Winston Churchill, 75008 Paris
Transport
Metro: Lines 1, 9, 13 / Stations : Franklin D. Roosevelt, Champs-Elysées-Clémenceau
RER : lignes C / Stations : Invalides
Bus : lignes 28, 42, 52, 72, 73, 80, 83, 93
Ticket Price
Free entrace Friday and Saturday 10:00am to 6:00pm
Saturday Night Show 40 €
Check web site for complete schedule and ticket sales





Website
Tony Hawk Paris Show