Dogs in Paris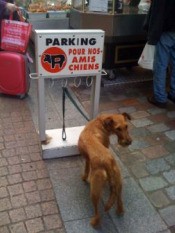 Dogs in Paris appear to have a very sophisticated life. While they are welcomed in bakeries, cafes, shops and bars most parks have large signs saying "no dogs - even on a leash" "pas de chien, même tenus en laisse".

Fortunately, this is Paris and most rules are not strictly enforced - the standard Parisian attitude seems to be "rules don't apply to me or my dog".

If there are leash laws, they are ignored. You see plenty of well behaved dogs walking with no leash.

Over the years the French have improved at picking up the poop but have not yet perfected the art. I've been told that there are undercover inspectors wandering around that issue on the spot fines, but I have yet to see them.

If you're moving with your dog to Paris from the United States here is a list from the French Embassy in the US detailing the requirements.
Traveling around Paris with your dog
Small dogs can be taken on buses, trams, metro and RER. Larger dogs, with the exception of guide dogs, have long been officially banned from the Metro but you still see them all the time. As long as you are traveling outside of rush-hour, I don't think you will have a problem.

Large dogs are not allowed on the trams or buses but they can be taken on the RER if they're on a leash and muzzled, with a half price ticket for the dog (same tickets you purchase for children ages 10 and under "demi tarif".)

If you need to travel by taxi, tell them in advance that you have a dog. This way the company can send a taxi that is willing to take pets.
Parks in Paris where you can take your dog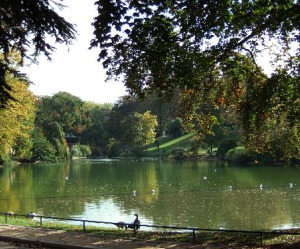 Park Montsouris
Dogs are allowed as long as they are on a leash and not on the grass (although I see plenty of dogs running around on the grass leash free when the park attendants are not looking).

This is a wonderful large English style park opposite Cité Universitaire.

After a nice walk with your dog sit and enjoy the little outdoor cafe by the lake.

Transport: RER Cité Universitaire / Tram Line 3 to Parc Montsouris or Cité Universitaire




Cité Universitaire International Campus
Walk around and enjoy the beautiful old stone buildings and some of the interesting new architecture on the International school buildings. There are signs saying no dogs but there are always plenty of dogs running around and the park security guards don't appear to care.

The University Cafe has a large outdoor terrance overlooking the grounds where you can sit on a nice afternoon and enjoy a very cheap beer or a snack.

Transport: RER Cité Universitaire / Tram Line 3 to Parc Montsouris or Cité Universitaire

Tuilleries Gardens
Allows dogs on the two elevated areas overlooking the gardens. The northern dog area faces the Rue de Rivoli and the southern overlooks the Seine River. Once again signs say that dogs should be on a leash but if your dog is well behaved this rule is pretty much ignored.

Luxembourg Gardens
Dogs allowed only in one section along the east side of the park and again they say "leash only". Look for the two special entrances that allow dogs.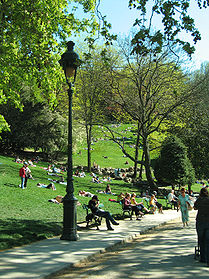 Parc des Buttes Chaumont
The park includes several cliffs and bridges, a grotto that encloses a waterfall, a lake, and several English and Chinese gardens.

Transport: Metro Line 7b to Buttes-Chaumont


Parc Bercy
Dogs are allowed to play leash free in certain sections of the park.

Transport: Metro Lines 6 or 14 to Bercy

Bois de Vincennes
Vincennes woods allow dogs in certain sections. This is a terrific large area for dogs to run and enjoy.

Transport: Metro Line 1 to Chateau de Vincennes

Parc Andre Citron
Look for the "white garden" as this is the only section of this 35 acre park that allows dogs

Transport: Metro Line 10 to Javel

Parc George Brassans
Beautiful neigbohood park with a separate fenced off dog area on the north side of the Park.

Transport: Tram T3 to George Brassans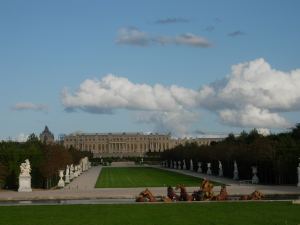 Versailles Park
You can bring small dogs into the Versailles Palace Gardens and larger dogs are welcome in the adjacent park area.

Transport: RER C to Versailles Rive Gauche



Traveling around Europe with your dog
Once in France, a French vet can issue an EU Pet Passport allowing travel within Europe (certain countries may require additional paperwork so always check before booking your trip).

If you're looking for an English speaking vet in Paris just drop me a note. In France it's illegal to publish the names of English speaking vets on the Internet but I can email you the information for my vet in the 14th arrondissement.