Favorite Paris Restaurants & Cafes
Going out to eat in Paris when you don't speak French can be very intimidating and frustrating. Don't despair there are plenty of wonderfully friendly restaurants and cafes in Paris and we're going to give you some tips for finding them and also a list of our own personal favorite restaurants and cafes.

Step 1
Visit our page Paris Restaurants and know what to expect regarding pricing, tipping, reservations, dress code, restaurant hours and more.

Step 2
Go to a restaurant or cafe that has been recommended. We'll give you a list below of a few of our personal favorites which we have chosen for both food and friendly service.

We don't eat out often enough to be a comprehensive guide to Paris's many restaurants but we've found a few great Paris food blogs and restaurant review sites which we're happy to recommend.

If you own an iPhone then we also suggest the free iPhone application "Tell me Where" or in French "Dit moi ou" which has helped us find many wonderful neighborhood bistros recommended by other customers rather than than professional restaurant critics.
Personal Favorites
FISH La Boissonnerie - Restaurant


69, rue de Seine
Paris 6ème
Tel: 01 43 54 34 69
Fax 01 46 33 15 29

Closed Monday. About 30 to 40 euros
Dress: Casual


This is one of our personal favorites because we love the combination or great food with friendly (not scary) service. Located in the heart of historic St. German this charming little restaurant is run by a New Zealander who also owns a terrific wine shop in the neighborhood.

Food is excellent, presentation is beautiful and the service is extremely friendly. The staff are mostly American, English or Australian but all are bilingual and happy to help you with the menu or the extensive wine list.

35 euro 3 course dinner menu is good value for the standard of the food served.
---
Au Pied de Fouet
3 rue Saint Benoit
75006 Paris
01.42.96.59.10
15 to 20 euros
Also in St. Germain area is "Au Pied de Fouet" a very cute but tiny bistro tucked down rue Saint Benoit. Unbelievable good value with starters from 3 - 5 euro and main course 11 - 15 euro. Wine is also very good and inexpensive. We had an excellent dinner for four with everybody enjoying 3 courses and two bottles of wine and all for under 100 euros.
Service is also very friendly and fast. No reservations required but you might want to get there early to get a table.
This restaurant has two other locations: 45 rue de Babylone, 75007 Paris and 96 rue Oberkampf, 75011 Paris
---
Le 14 JUILLET - Restaurant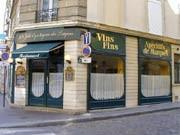 99 rue Didot
Paris 14ème
01 40 44 91 19.

Open 7 days a week. About 25 to 35 euros
Dress: Casual



This is our neighborhood favorite and is also mentioned in the Michelin Green Guide as a good place to eat in the 14th arrondissement.

Very friendly young staff immediately make you feel at home. Classic bistro style restaurant with old wooden tables, red and white checkered napkins and a chalk board menu which they carry around from table to table.

The staff speak enough English to help you with the menu. Unpretentious classic French food including such staples as homemade pate, blanquette de veau and the house special "leg of lamb" for two.

This might be a little out of the way if you are just visiting Paris as "rue Didot" is not very scenic but if you live in Paris and are looking for a friendly neighborhood bistro with classic French dishes for a good price and friendly service then you need to visit our friends at the 14th of July.

---

Le Bec Rouge
Bistro a Vins
46 Bis, Bld du Montparnasse
75015 Paris
01.42.22.45.54
15 to 26 euros

If you are going out to see a movie in Montparnasse then this is a great place for an early dinner. Two course dinner menu with a glass of wine is only 15 euro until 9:00pm. Regular menu prices are 22 to 26 for two course dinner. Excellent unpretentious French food for very reasonable prices. The restaurant is very popular with the Montparnassee locals and mostly overlooked by the tourists. Staff are friendly and very efficient.
---
Les Grillades de Buenos Aires
54, rue de Montparnasse
75014 Paris
01.43.21.56.74
20 to 30 euros
Very small Argentinean steak restaurant offering an all beef menu at affordable prices. I would normally not recommend steak restaurants in France as you're usually better off with fish, poultry or pork but if you're craving some red meat then try this little restaurant tucked away between all the creperies on rue Montparnasse.
Recommended Food Blogs & Websites
Paris Through Expatriate Eyes
A wonderful website that has a great Bistro and Bar Guide organized by arrondissement. Updated weekly you'll find fun neighborhood resturants which have been selected for not just their food but also for good value and friendly service.

David Lebovitz - Living the Sweet Life in Paris
David Lebovitz, renowned pastry chef and author of several food books, has been living in Paris since 2002. David lists some of his favorite places to eat. The restaurants, bistros and wine bars selected are not fancy, but are places where you'll find a good mix of Parisians with a few visitors as well. Most of them are moderately priced, except where noted.

David also produces a beautiful food blog from Paris with the most incredible photographs, and recipes that really make your mouth water.