Paris Breakfast Run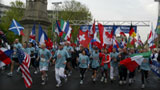 Date: Saturday, April 10th 2010

Location: Start: Ecole Militaire

Return to Family Fun Events
Return to Paris Sports Events

Description

Held just the day before the official Paris Marathon the "Paris Breakfast Run" is a special 2km to 5km run open to everybody from ages 4 to 77.

This years event is really geared for children and families and there will be games, presents, music and the traditional free breakfast.

The race is free for everybody but children must be accompanied by an adult in order to take part. No advance registration is required just show up at one of the two starting points listed below.

Starting Point for the 5km:
The meeting is at 8:30am in front of the Ecole Militaire – avenue La Motte-Picquet – 75007 Paris – Metro Ecole Militaire or La Motte-Picquet. This route takes runners past the Eiffel Tower and Trocadero before finishing just before the Arc de Triomphe.

Starting Point for the 2km:
The meeting is at 8:30am at the corner of the Avenue Raymond Poincare and Avenue Foch, for a 2km run along avenue Foch, in the direction of the Porte Dauphine and many others activities.

Check our Paris Marathon page for more information on the international 42km marathon that will take place on Sunday April 11th.

Check official Paris Marathon website for a for more information about The Breakfast Run.