Paris Marathon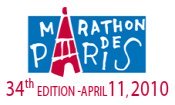 Date: Sunday, April 11th 2010

Location: Start: On the Champs Elysees by the Arc de Triomphe

Return to Paris Festivals
Return to Paris Sports Events

Description

The international Paris marathon attracts over 35,000 runners annually to what must be one of the most scenic marathons in the world.

This years course starts right in front of the Arc de Triomphe before continuing down the famed Champs-Elysees past the Tuilleries Gardens and the Louvre. From there it makes its way past some of the city's most well known landmarks, including Notre Dame cathedral, Place de la Bastille and the Eiffel Tower. The race also passes through the beautiful woods of Bois de Boulogne to the West of the city and Bois de Vincennes to the East, and a significant section of the route takes runners along the picturesque banks of the River Seine.

The wide avenues of the Champs Elysees at the start prevent overcrowding and the flatness of the course makes it fairly fast. 250,000 spectators line the route to cheer on runners and red wine and cheese is even served at the 35th km mark!

If you're more a 5K than a 42K runner you might want to check out the family friendly "Breakfast Run" which takes place on Saturday April 10th. This course starts at Ecole Militaire and takes you past the Eiffel Tower, Trocadero and almost up to the Arc de Triomphe. Runners enjoy a free breakfast complements of the event organizers.

Check official Paris Marathon website for a full map of the route and any additional information.