Enjoy the Paris Markets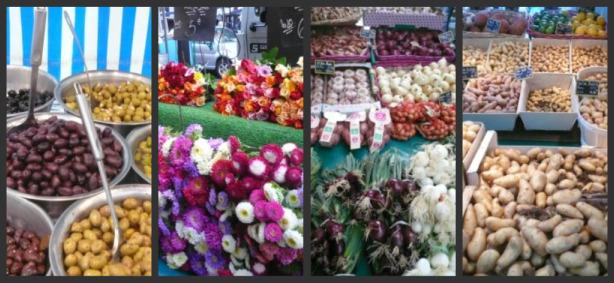 Shopping at open markets (marché) is a popular and fun way to find the freshest food in town. There are more than 80 open air markets located in Paris and the surrounding suburbs. These markets are open two or three times a week, usually between 8:00am and 1:00 pm. Click here for a list of Paris markets with addresses, dates and times
Even if your French isn't great don't be intimidated by the outdoor markets. The merchants are generally very friendly and really don't care if your French is less than perfect. Do look up a few phrases though as my husband almost bought horse meet "cheval" thinking it was steak!
A few of my favorite markets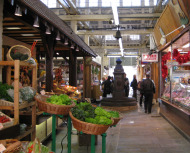 Marché d'Aligre
Location: Place d'Aligre - 12th arrondissement
Days & Times: Every Day except Monday
Open Air Market 8:00am to 1:30pm
Covered Market 9:00am to 1:00pm and 4:00pm to 7:30pm / Sunday 8:30am to 1:30pm
Metro: Ledru-Rollin.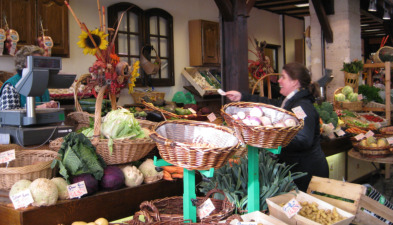 Fun, cheap and very lively market which is made up of two parts: The covered market "Marché Beauveau" (dating back to 1777) and the open-air market on the square d'Aligre.
You will find many products from Africa and Asia with a great supply of spices, tapenades and dried fruits. There is also a flee market outside where you just might find some good antiques or collectables.
When you've finished your shopping join the locals at le Baron Rouge wine bar, rue Théophile-Roussel for a very inexpensive glass of wine in a bar full of character and characters!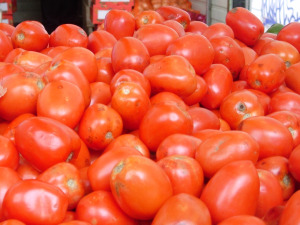 Marche Edgar Quinet
Location: Median of boulevard Edgar-Quinet
Days: Wednesday 8:00am - 2:30pm & Saturdays 8:00am - 3:00pm Metro: Edgar Quinet
This is my sons favorite market as there is a great pizza guy here who makes wonderful pizzas with homemade sauce and lots of fresh toppings. There is a also a great crepe stand which also sells home make salty butter caramel spread and other specialties from Brittany. You'll also find amazing seafood, fresh meat and lots of beautiful produce.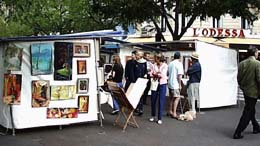 The market stalls are left in place overnight and every Sunday starting around 11:00am you can enjoy "Marche de la Creation" an Art Market where you get to see the artists and their works in an informal and friendly setting. Pictures range in price from a few euros to a several thousand.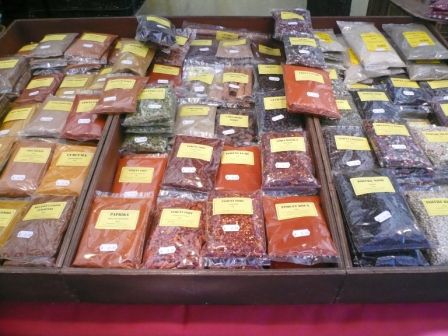 Marche Convention
Location: Rue Convention between rue Al Chartier and Abbé Groult.
Days& Times: Tuesday,Thursday, 8:00 am to 2:30pm and Sunday, 8:00am to 3:00pm
Metro: Convention
Excellent selection of seafood, spices, fresh fruit and vegetables. Thursday's market also has good clothes including shoes and jeans at very affordable prices.
Famous old market shopping streets
There are some wonderful old street in Paris still lined with market stalls and food shops which are open Tuesday through Saturday and Sunday mornings.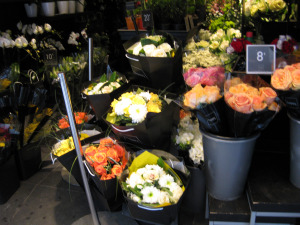 Rue Mouffetard
Location: Rue Mouffetard in the 5th arrondissement
Days: Most stores are open every day
Metro:Cardinal-Lemonie or Place Monge
Wonderful narrow, windy and mostly pedestrianized street with lots of food shops, market stalls, inexpensive restaurants and small clothes shops.
If you're heading to the Jardin Des Plantes then this is a great place to stop for lunch or to pick up picnic supplies.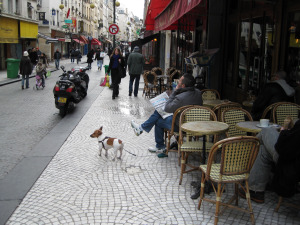 Rue Montorgueil
Location: Rue Montorgueil in the 2nd arrondissement
Days: Most stores are open every day
Metro: Etienne Marcel or Sentier
One of Paris' oldest market streets lined with some of the city's best fish, produce, and gourmet grocery shops. Don't miss the Stoher Bakery which is the oldest bakery in Paris and home of the original "rum baba"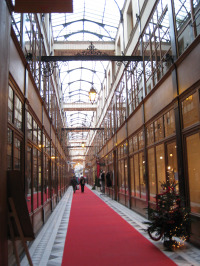 Take a detour off rue Montorgueil and wander down "rue Marie Stuart" to the "Passage du Grand Cerf". Originally built in 1825 as an inn this covered passage was beautifully renovated in 1988 and now houses 33 fashionable and trendy designer, decorator and craftsman stores and also a Brazilian restaurant. Definitely worth the small detour.